What do QVC viewers know that you should know about improving your home's indoor air quality?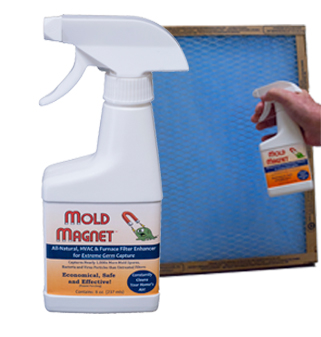 How The Filter Spray Works
The microscopic particles that become trapped can include mold spores, bacteria, pollen, various allergens, viral particles, toxins and other microbes. The particles preferentially stick to the bio-molecules contained in the spray, thereby leaving the air healthier to breathe. Even better, because it preferentially binds only microscopic biological particles, the spray does not decrease the useful life of your filter.
Who Should Use A Filter Spray?
The filter enhancement spray should be used by anyone who is looking to reduce biological contaminants in their home or has allergies and is sensitive to the various allergens that are all around us.
So Easy To Apply
The furnace enhancement spray is very easy to apply. Just hold the filter in your hand and spray the solution 3 or 4 times to lightly cover all areas of the filter. Both sides of the filter may be sprayed for maximum effectiveness. One application of the spray can last for the recommended life of the filter. After that, simply remove the used filter and spray the new replacement filter.
Important Facts
Patented Formulation U.S. Patent #10, 227,631
Application of the filter spray does not inhibit or obstruct the air flow in any way. It simply traps the free-floating biological particles, binding them to the filter.
One need not purchase expensive filters to achieve the desired result. The filter spray works on even the lowest priced filters.
Renders any filter 1000X more effective at filtering out particles and cleaning the air.
Healthful Home's MOLD MAGNET® Filter Enhancement Spray is currently the only such spray on the market. It is an all-natural biological formulation that lasts the full life of the filter and is safe for children and pets. Each 8 oz. bottle is sufficient for 14 to 18 applications.
For more information on Healthful Home Product's MOLD MAGNET® Filter Enhancement Spray, visit https://healthfulhome.com/mold-magnet/ or call 800 455-1250. You can purchase the MOLD MAGNET right from the website or search for a store near you.